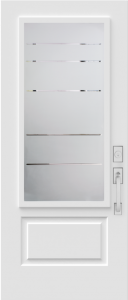 GOLD LEAF ENTRY DOORS
Thinking of replacing your existing entry door? With Gold Leaf Windows and Doors you get a complete entry door system with a variety of options and styles to choose from. This allows you to create a unique entrance to your home that combines classic style, low maintenance and energy efficiency.
Steel and fiberglass doors are strong and secure and that makes them the right choice when you want maximum durability and efficiency without sacrificing looks.
Finish off your home with a gorgeous entry door, brighten up a room by adding a sliding patio door, improve curb appeal with a new garage door and add a bit of elegance with a French door. Installing new doors is the perfect way to increase the value of your home! Complete your door with one of our many stunning decorative glass styles for a beautiful look that will complement and enhance your home for years to come.