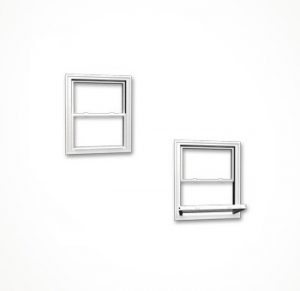 SINGLE HUNG WINDOWS
Single hung windows are a popular choice in residential households, due to their versatility, ease of operation, and simple yet classic design. The lower sash on these windows will slide up or down and allow airflow to enter your home. Allowing you to see the outside through a clear unobstructed glass.
On single hung windows, the top sash is hung and fixed in place, which causes the window to not move or tilt inwards. The bottom however, is fully operable. As a result of half the window being fixed in place, only half of the window can let air into your home. However, this can be a positive characteristic, as they are more energy efficient than their double hung counterparts.
Handcrafted design, colonial framing inside and out
Top sash is fixed in place, while the bottom remains fully operable
Bottom sash tilts inward for easy maintenance, cleaning and maximum airflow
Adjustable balance system ensures stability of sash when operated
FREE ESTIMATE
With a sleek profile and contemporary style, the bottom sash of single hung windows will tilt inwards for cleaning purposes. This type of window does not protrude outward, making it a popular choice for walkways, patios, sunrooms, or porches.
If you feel that a single hung window is the right choice for you, call Gold Leaf today. We include Argon gas between the panes which is standard on all of our windows so you can rest assured knowing that your home will be protected from future condensation. Your home will also be warm, dry and running at full energy efficiency.
All of our windows and doors have the Energy Star seal and provide maximum home insulation. Our vinyl windows are more energy-efficient, fire-resistant and modern than wooden or aluminum windows. Canadian-made windows and doors from Gold Leaf feature advanced structural designs, high quality sealing systems and stunning good looks.
Gold Leaf Windows & Doors also offers insulated spacers within the sealed glass between window panes to help protect against condensation. We apply low emissive coatings to all our window surfaces to protect against heat loss. At Gold Leaf, we make sure your home is warm, dry, energy-efficient and beautiful for years to come.
Handcrafted design, colonial framing inside and out
Both sashes slide along the window frame and tilt inward
3 ¼ fusion welded, both frame and sash
7/8″ sealed unit, with Guardian 75/68 glass
Triple glazed windows provide added efficiency and reduce noise (optional)
Neoprene bulb seal provides ultimate seal on all sliders
Cam lock and keeper have passed F10 CSA testing
Screen covers entire frame and is available in silver or black
Adjustable balance system ensures stability of sash when operated
Uneven sashes (Oriel) can be made to fit any existing openings (option)
Foam Insulated Frames (optional)
| Product | Visible light transmittance | Solar heat gain coefficient | Winter u-factor (air/argon) | UV | Fading Transmission |
| --- | --- | --- | --- | --- | --- |
| Single-pane-color | 90% | 0.86 | 1.04/- | 0.71 | 0.84 |
| Double-pane-color | 82% | 0.78 | 0.48/- | 0.58 | 0.75 |
| Ordinary low-e (air fill) | 76% | 0.72 | 0.34/0.30 | 0.50 | 0.68 |
| LoE2-272 | 72% | 0.41 | 0.30/0.25 | 0.16 | 0.55 |