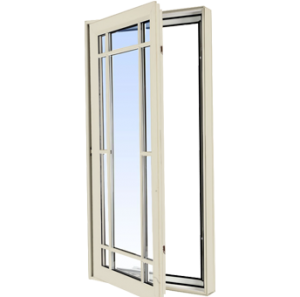 CASEMENT WINDOWS
Gold Leaf casement windows are built to withstand any season in Canada. Casement windows have a sash that swings out horizontally. Up to four or five hinges, depending on width, can be situated on the left or right side of the window. All four corners of our windows are welded together at 473 degrees Fahrenheit. We do not use silicone, glue or screws, instead we fusion weld the window to create one solid frame.
Between the window's main frame and sash, looking from the outside, there is a brush seal. This brush seal is a used to keep dirt and dust out and off the sill. Just past the brush seal there are two more seals called bulb seals, they are used to create suction between the sash and the main frame to prevent water and wind from coming into the home.
Most popular window style on the market today
Offers maximum airflow and ventilation
Energy Star Certified
FREE ESTIMATE
Casement windows offer a refined look to your home. They swing outward, for maximum ventilation and unlike sliding or hung windows, casements don't have a rail. Instead, they can be opened by using a smooth action hand crank. With easy operation and optimal thermal performance, these windows are practical and beautiful. They also shut tightly and provide a lasting seal. These features make them the most popular style window on the market today!
Here at Gold Leaf, we pride ourselves in offering outstanding casement windows. Made with a welded frame and sash, a full internal screen, heavy duty multipoint hardware, EcoSmart thermal glass, and insulation with a warm edge spacer, these Canadian made windows can be enjoyed for years to come.
All of our windows and doors have the Energy Star seal and provide maximum home insulation. Our vinyl windows are more energy-efficient, fire-resistant and modern than wooden or aluminum windows. Canadian-made windows and doors from Gold Leaf feature advanced structural designs, high quality sealing systems and stunning good looks.
Gold Leaf Windows & Doors also offers insulated spacers within the sealed glass between window panes to help protect against condensation. We apply low emissive coatings to all our window surfaces to protect against heat loss. At Gold Leaf, we make sure your home is warm, dry, energy-efficient and beautiful for years to come.
Welded frame and sash
Heavy duty multipoint hardware
7/8″ thermoglass with insulating warm edge spacer
Optional Low-E + Argon for maximum efficiency and UV protection
Full internal screen spring loaded for ease of operation
| Product | Visible light transmittance | Solar heat gain coefficient | Winter u-factor (air/argon) | UV | Fading Transmission |
| --- | --- | --- | --- | --- | --- |
| Single-pane-color | 90% | 0.86 | 1.04/- | 0.71 | 0.84 |
| Double-pane-color | 82% | 0.78 | 0.48/- | 0.58 | 0.75 |
| Ordinary low-e (air fill) | 76% | 0.72 | 0.34/0.30 | 0.50 | 0.68 |
| LoE2-272 | 72% | 0.41 | 0.30/0.25 | 0.16 | 0.55 |