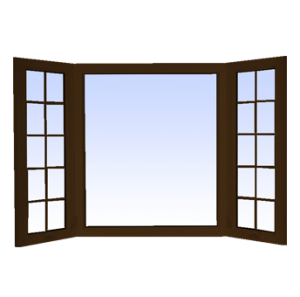 SINGLE HUNG WINDOWS
Gold Leaf's bay windows are Energy Star certified and designed to withstand the harshest Canadian weather. Featuring EcoSmart triple pane glass and foam filled frames, our bay windows allow your home to be properly insulated and operate at maximum efficiency.
Featuring multiple panels at varying angles, a bay window can instantly add value to your home. Built to protrude outward from the wall, a bay window provides an unparalleled amount of natural light and a gorgeous view.
Three-sided window with curved structure
Offers a large, unobstructed view
Optional Low-E + Argon for maximum efficiency and UV protection
Full internal screen spring loaded for ease of operation
FREE ESTIMATE
Often made up of three sections in varying sizes, bay windows generally consist of a large center window, and two smaller windows situated on the left and right sides. These smaller windows are called flankers and are angled 30-40 degrees from the wall. Offering ample ventilation and a large, unobstructed view, a bay window provides many benefits to any living space. Creating a focal point from any angle inside the room, a bay window amplifies the serene setting inside your home and makes a room appear larger than it truly is. A bay window has the unique characteristic of looking like an alcove inside your home, making it the perfect solution for homeowners that are looking for a bit more space.
With its curved structure, a bay window offers a round projection of the outdoor landscape. These types of windows have the option of casement or hung style flankers. Commonly situated in a living room, large office, or master bedroom, a bay window is simply beautiful to look at from inside and out.
All of our windows and doors have the Energy Star seal and provide maximum home insulation. Our vinyl windows are more energy-efficient, fire-resistant and modern than wooden or aluminum windows. Canadian-made windows and doors from Gold Leaf feature advanced structural designs, high quality sealing systems and stunning good looks.
Gold Leaf Windows & Doors also offers insulated spacers within the sealed glass between window panes to help protect against condensation. We apply low emissive coatings to all our window surfaces to protect against heat loss. At Gold Leaf, we make sure your home is warm, dry, energy-efficient and beautiful for years to come.
Welded frame and sash
Heavy duty multipoint hardware
7/8″ thermoglass with insulating warm edge spacer
Optional Low-E + Argon for maximum efficiency and UV protection
Full internal screen spring loaded for ease of operation
To maximize the energy efficiency, Casements, Awnings, Picture and Fixed Casements can be manufactured with triple pane glass – 1 3/8″
| Product | Visible light transmittance | Solar heat gain coefficient | Winter u-factor (air/argon) | UV | Fading Transmission |
| --- | --- | --- | --- | --- | --- |
| Single-pane-color | 90% | 0.86 | 1.04/- | 0.71 | 0.84 |
| Double-pane-color | 82% | 0.78 | 0.48/- | 0.58 | 0.75 |
| Ordinary low-e (air fill) | 76% | 0.72 | 0.34/0.30 | 0.50 | 0.68 |
| LoE2-272 | 72% | 0.41 | 0.30/0.25 | 0.16 | 0.55 |