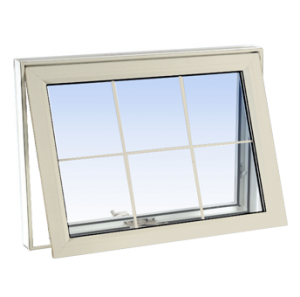 AWNING WINDOWS
GoldLeaf's energy efficient awning windows are designed to withstand Canada's varying temperatures throughout all four seasons. Our awning window features EcoSmart triple pane glass and foam filled frames to ensure your home operates at maximum efficiency. A versatile option, awning windows have a hinge on top, which allows them to open outward from the bottom. This particular type of window sits horizontally, making it the perfect option for maximum air flow inside the home. This type of window also delivers an unvarying amount of natural light.
Energy Star certified and Canadian made
Swings outward at a 45° angle to prevent weather elements from entering the home
A durable option, commonly used in basements or hard to reach places
Heavy duty internal screen and spring loaded turn handle for easy operation
FREE ESTIMATE
Awning windows are often used in conjunction with large stationary windows, and for this reason, they have the reputation for being a durable window with unlimited architectural possibilities. Commonly used in basements, awning windows can be situated side by side or in a series. Due to the hinged top and outward opening mechanic, awning windows prevent outside elements and the harshest weather (such as rain, falling leaves, hail, etc.) from entering the home. These types of windows can also be situated up high, and the operator can easily open and close the window with the turn of a handle.
Screens are placed on the inside of awning windows. Due to the window closing flush against the frame, awning windows generally have a lower amount of air leakage compared to sliding windows. Whether you are looking for a new window solution or for a complete overhaul, awning windows might be the right choice for you. They are ideal for hard to reach places, above sinks in kitchens, and most importantly, they offer guaranteed durability and smooth, stress-free operation.
All of our windows and doors have the Energy Star seal and provide maximum home insulation. Our vinyl windows are more energy-efficient, fire-resistant and modern than wooden or aluminum windows. Canadian-made windows and doors from Gold Leaf feature advanced structural designs, high quality sealing systems and stunning good looks.
Gold Leaf Windows & Doors also offers insulated spacers within the sealed glass between window panes to help protect against condensation. We apply low emissive coatings to all our window surfaces to protect against heat loss. At Gold Leaf, we make sure your home is warm, dry, energy-efficient and beautiful for years to come.
Welded frame and sash
Heavy duty multipoint hardware
7/8″ thermoglass with insulating warm edge spacer
Optional Low-E + Argon for maximum efficiency and UV protection
Full internal screen spring loaded for ease of operation
To maximize the energy efficiency, Casements, Awnings, Picture and Fixed Casements can be manufactured with triple pane glass – 1 3/8″
| Product | Visible light transmittance | Solar heat gain coefficient | Winter u-factor (air/argon) | UV | Fading Transmission |
| --- | --- | --- | --- | --- | --- |
| Single-pane-color | 90% | 0.86 | 1.04/- | 0.71 | 0.84 |
| Double-pane-color | 82% | 0.78 | 0.48/- | 0.58 | 0.75 |
| Ordinary low-e (air fill) | 76% | 0.72 | 0.34/0.30 | 0.50 | 0.68 |
| LoE2-272 | 72% | 0.41 | 0.30/0.25 | 0.16 | 0.55 |